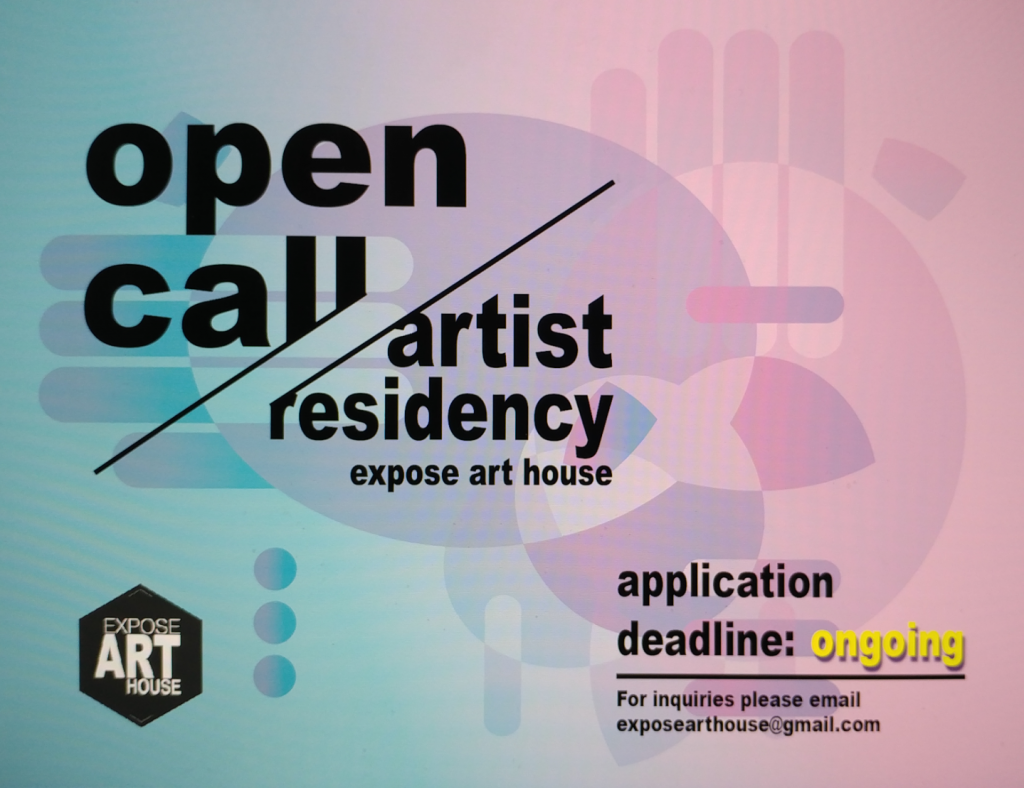 Expose Art House Residency – Fall 2019 – 2021
Expose Art House is an artist-run alternative art space/short-term residency dedicated to civic and educational programs for artists, curators and all manner of creative people.
Expose Art House is committed to cultivating a global perspective through engaging with the aesthetics of contemporary art, in all it's forms. Established in an effort to provide artists/creative a space to focus on their creative process, Expose Art House Artist-in-Residence program plays a supportive role for the arts in greater Montgomery, Alabama by bringing national and international artists to Montgomery and the Tri-County areas during the Spring, Summer, and Fall of each calendar year.
Through our close cooperation with, and support of, various local art-focused groups, institutions, and non-profit organizations, Expose Art House is one of Montgomery's primary Artist-in-Residence resources for artists from around the world who wish to come create and share their work with Montgomery and surrounding areas.
Expose Art House offers the following Residencies:
ARTIST RESIDENCY
WRITER/POET RESIDENCY
Artists working in all media and at any stage in their career are welcome to apply for residencies (during specified dates) for a minimum of 2 weeks and a maximum of 2 months throughout each calendar year.
Writers working in all styles are welcome to apply
Expose Art House will accept one artist and one writer during each residency period. Each artist and/or writer will have access to their private bedroom, shared kitchen, bathrooms, living space and library. Wi-Fi is available. Artists are encouraged to create new work at Expose Art House. An exhibition could be arranged at our gallery of those works or works previously made and finished during residency, at the end of each artist's stay. Artists are asked to leave one work for Expose Art House Flat Files. Artists/Writers are encouraged to spend a minimum of 20 hours/week working in their studio. Artists are required to give a public lecture and/or workshop during the course of the residency. During the course of the residency, we will arrange for curator/fellow artist/student visits to the artist's' studio.
Please note that this is a privately run artist/writer residency, we do not offer funding during the residency. We would gladly write a letter of recommendation to accepted artists who are applying for individual grants to fund their residency at Expose Art House. We also ask our resident artists to treat the art house like their own house.
SELECTION CRITERIA
This residency is perfect for Artists working in two dimensional media and small sculpture. Artists will have access to wood working tools and basic printmaking tools. Applications will be judged based on the nature of sample works, CV, the project(s) proposed, the compelling nature of the artist's discussion of their project(s), and the potential to make a contribution to the public and to the artist's own career while in the residency.
Art House will review applications and select artists for each Spring, Summer and Fall cycle. All applicants will be notified by e-mail. PLEASE DO NOT CALL OR EMAIL EXPOSE ART HOUSE FOR SELECTION RESULTS.
ELIGIBILITY
Must be 18 years of age or older. Applicants may not be a resident artist in another residency program at the same time as a Expose Art House residency.
APPLICATION PROCESS
Step 1: Fill out questionnaire (below)
Step 2: Submit CV, Portfolio, and Cover Letter to exposeartmagazine@gmail.com
Step 3: Pay Application Fee ($35):
---