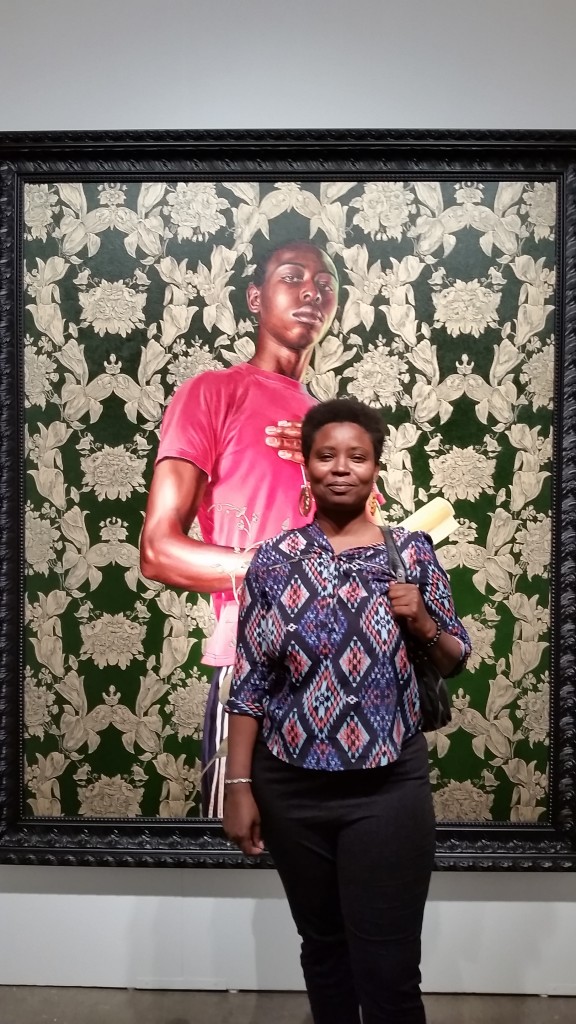 Expo Chicago is the windy city's attempt at creating a world-class art fair, and they largely succeeded, featuring 140 galleries representing 16 countries, the atmosphere is giddily overwhelming. Expo Raises the bar with booth talks, performances and panel discussions featuring heavyweights such as curator, critic, and historian Hans-Ulrich Obrist in conversation with members of Chicago Imagists The Hairy Who, and artists such as Daniel Buren discussing the intersection of abstract art and architecture, both of these discussions have been archived by Expo Chicago and can be found online. But it's the art that is the real draw here; with over 3,000 artists represented by 140 galleries it is hard not to feel dazed by the sheer magnitude of the fair. A scattershot approach to presentation is what separates an art fair from an exhibition where the curatorial role appears to be nearly absent, in it's place we find a market based approach where selling is key, thus we are presented with a safe, non-confrontational view of contemporary art that leans heavily on 2-dimensional, aesthetically pleasing work – work that will sell.
This is not necessarily a bad thing as is evidenced by pieces such as Daniel Buren's "Situated works", Buren's pieces are light based works made of optical fiber and their ubiquitous presence dominated the fair as they worked to transform the architecture into a deeply immersive atmosphere, equally jarring and meditative.
Water Light Graffiti is another light based interactive work by the Paris-based artist Antonin Fourneau. Created with 1000's of water sensitive LED light bulbs, the public was invited to take part in an ever-evolving graffiti inspired piece. Like a grown-up version of lite-brite with a twist; the addition and erasure of light created through the use of damp sponges. Sponsored by the Natural Resources Defense Council, Fourneau's work hopes to spark a dialogue about the interplay between technology and nature and our dwindling resources.
Lotus 0.475 is a kinetic sculpture crafted by Pedro S. De Movellan. The piece seduces the audience with its shiny red finish, and attracts viewers like flies to light with its slow fluid motion. After being drawn to the sculpture, the viewer patiently waits for the piece to stagnate, but due to the weight distribution between aluminum, brass, and stainless steel, Lotus 0.475 never quits. In a world where abstract and figural sculpture reigns supreme, it is a breath of fresh air to witness such a carefully planned and crafted piece focusing primarily on kinetics.
This years Expo marks the first official collaboration between Expo Chicago and China and featuring four artists represented by CAFA, the Central Academy of Fine Arts in Beijing. The highlights of this group were Geng Xue and Wang Yuping. In Mr. Sea, Geng Xue creates delicate porcelain sculptures as well as stop-motion films with these creations, the effect is stunning, bringing the ancient artisanal tradition of porcelain wares into a thoroughly modern sculptural and cinematic realm. Wang Yuping works with acrylic on paper to create a series of discrete and whimsical images titled, appropriately enough, Small Things. These paintings feature familiar and unfamiliar objects centered in an off white background and seem to comment on production and conspicuous consumption.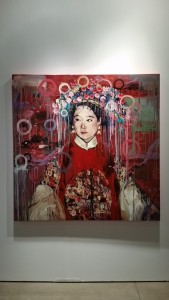 While embracing it's function as an art fair, Expo Chicago secondarily serves as an educational environment for students, faculty, and art lovers alike. Unlike other art fairs such as Art Prize, Expo primarily exists to serve the buyers market. Art Prize, located in Grand Rapids, Michigan, celebrates and welcomes all artists in the contemporary world-whether they are up and coming, established, experimental, or filmmakers. The artists are often present at the event to answer questions and encourage meaningful conversation about the work. Expo Chicago is an international fair showcasing contemporary art from famous, established artists. The artists are not always present at the event, typically only the dealers that represent them are available and have little time for the non-buyer. Expo sparks conversation among visitors while an event such as Art Prize sparks conversation among visitors and artists.