Meka Jean: Ivy League Ratchet
When enough is enough and I'm so tired / And I'm so strong / I'm all alone / And I'm always wrong / And I'm never right / While the bills pile high / I'm still all alone / But I'm still alive / This is still my life
-Meka Jean, "Still (a) Life"
In conjunction with the international tour of her feature film, How She Got Good, Meka Jean drops Ivy League Ratchet, available January 15, 2016, on SoundCloud and on sale soon through iTunes. The four songs on her new EP are intensely personal, channeling the artist's varied experiences (as a seemingly inevitable statistic, as an aspiring rapper, as a graduate student at Yale) into a refusal to accept the fates of black youth we see broadcast repeatedly on Facebook and Twitter. Always rejecting complicity with the status quo, Meka Jean makes art that doesn't fit in galleries or museums, and her music rips through everything you expect from Top 40 radio.
Meka came to the art world late, after trying to make it as a teenager in the Los Angeles rap game in the early 2000s. She realized that the music industry wasn't (and still isn't) built for women—particularly women of color—to succeed. Even after going to audio-engineering school, she was told that in the male-dominated spaces of the studio and the club she'd be nothing more than a distraction, an inspiration, a delivery woman bearing weed and Hennessey, or, if she were lucky, someone's jump off.
In order to clap back and claim her own worth as a creator and a force to be reckoned with, she sought a career in contemporary art, looking at artists such as Kara Walker, Cindy Sherman, Andrea Fraser, Adrian Piper and Barbara Kruger. After hustling her way to the University of California, Los Angeles, and then to Yale University's renowned master's program, Meka understood, that the art world at large centers around the white and the wealthy, despite the critical acceptance of feminism and identity politics. She was still expected to perform in a way that affirmed, but never questioned, her perceived black femininity, and Ivy League Ratchet shows Meka Jean's queer relationship to her body and to all the assumptions others have about it.
Meka's experiences living in the South just one generation after legal desegregation; roaming the streets of Los Angeles; climbing up the rungs of academia; and trying to find herself in the music industry are all integral parts of her practice and her songs. She takes the languages of rap and art history and then deflates them of their power. "Girl your pussy got jaundice / My pussy be that bomb shit / Got your man doing what I say / Step-by-step like Fluxus." She smashes together all the cultural expectations placed upon her and spits them out in an avalanche. Meka Jean finds power in her ability to code-switch—from the ivory tower to the strip club, from New Orleans to Los Angeles and Berlin—creating her own world since she doesn't quite fit elsewhere. Despite Meka's petite frame (she's just under five feet tall), Ivy League Ratchet is a resounding affirmation—against all odds—of self, of existence, and of queer black womanhood in 2016. Each song serves as an anthem to tearing shit up or, at the very least, staying alive.

Who is Meka Jean? 
Tameka Jenean Norris, a.k.a. Meka Jean, is an artist currently working between Berlin, New Orleans, and Los Angeles. Her interdisciplinary work—spanning painting, performance, video, and social practice—critiques the continuing invisibility of blackness in mainstream culture today. Using herself and her communities as her subjects, Norris questions how identities are formed on personal and cultural levels. Norris received an MFA in painting from the Yale University School of Art in 2012 and a bachelor's degree from the University of California, Los Angeles. Her work was the subject of a solo exhibition at the Contemporary Arts Center, New Orleans, and was included in "Radical Presence: Black Performance in Contemporary Art" at the Contemporary Arts Museum Houston; Performa 13 at The Studio Museum in Harlem; and the international art exhibition "Prospect.3: Notes for Now" in New Orleans. Norris is represented by Jane Lombard Gallery in New York, Ronchini Gallery in London, and David Shelton Gallery in Houston.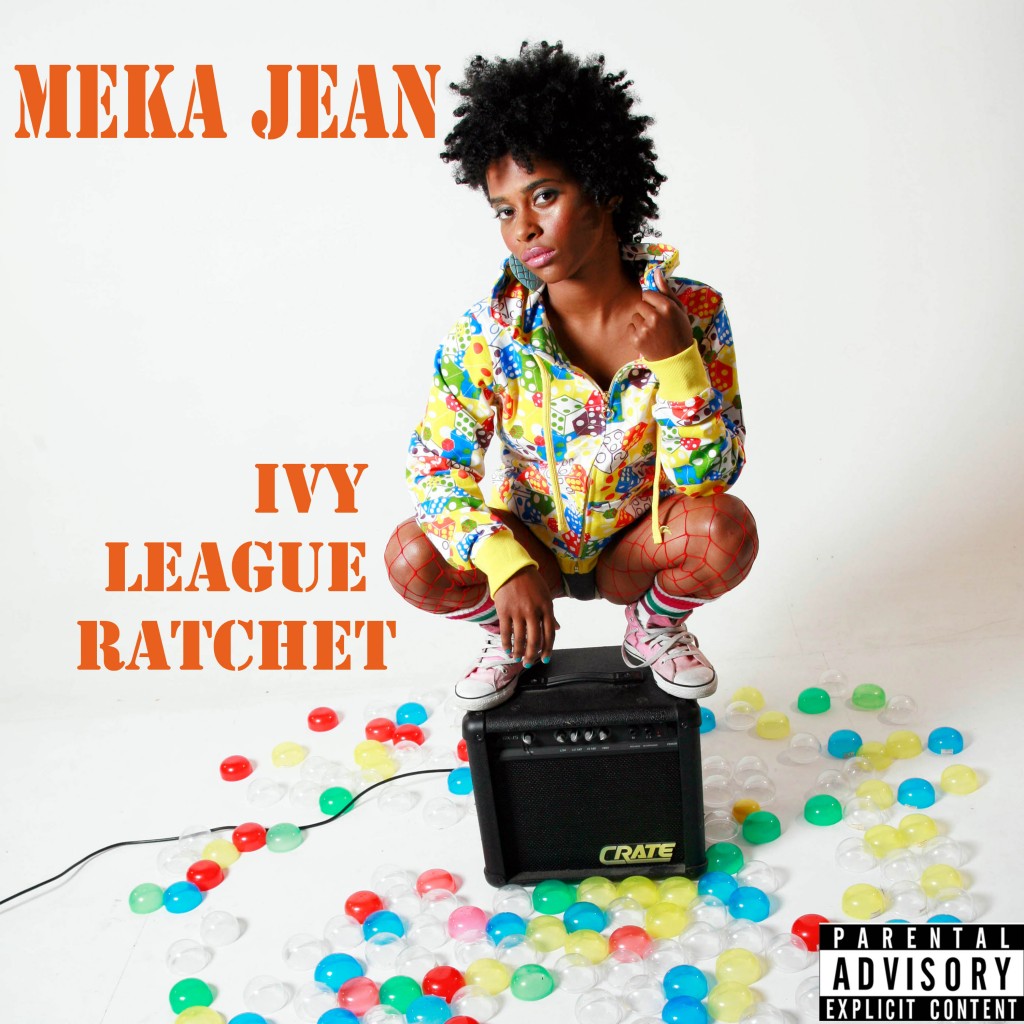 Check out Ivy League Ratchet  on Soundcloud. A special edition of Ivy League Ratchet which includes a framed, signed special edition print (Wash N Dry) is available through David Shelton Gallery in Houston. All proceeds support the Ivy League Ratchet tour and Meka Jean's forthcoming full-length album. The production of Wash N Dry was generously supported by Emerson Dorsch in Miami.
For more Meka Jean, check out Expose Art Magazine Upcoming Issue