'May you live in interesting times' is the title given to this year's 58th Venice Biennale by American-born, London-based curator Ralph Rugoff. A phrase mistakenly cited as an ancient Chinese curse that invokes periods of uncertainty, crisis and turmoil, 'interesting times' unequivocally reflects a world currently facing all three. This year's exhibition aims to highlight art's social function as embracing both pleasure and critical thinking. 79 artists selected by Rugoff are displayed over two main sites; the Giardini, a park containing many national pavilions, and Arsenale; a former shipyard. In a change from the 2017 edition, Rugoff made the decision to include only living artists whose work responds to the immediacy of our times with a significant amount of painting, a medium he describes as 'regularly declared dead but continually finds a way to reinvent itself'.  Of the 89 national pavilions, four countries made their Biennale debut this year, including Madagascar, Algeria, Pakistan and the highly anticipated Ghana presenting works by John Akomfrah, El Anatsui, Lynette Yiadom Boakye, Ibrahim Mahama, Selasi Awusi Sosu and Ghana's first professional female photographer Felicia Abban, now 83.
It has to be accepted before arrival at the Biennale that it is impossible to see everything (that is not a challenge!) There are a dizzying number of national, collateral and fringe exhibitions, some in far-flung corners of the lagoon, such as this year's Special Project with artist Ludovica Carbotta at Forte Marghera on the mainland.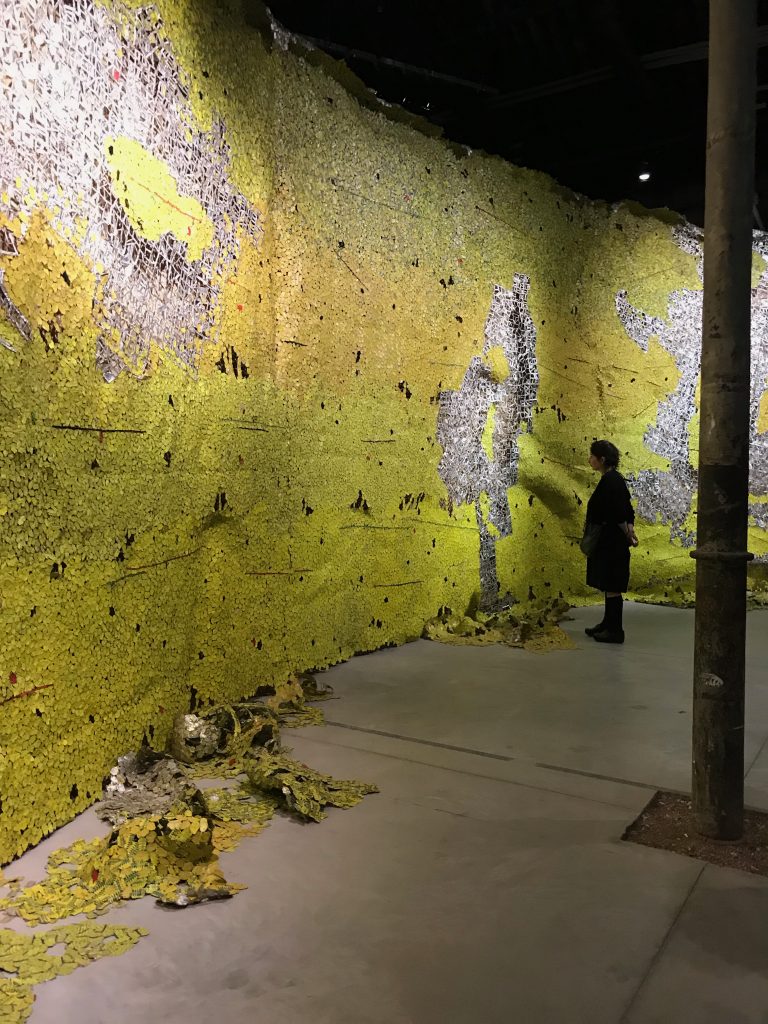 El Anatsui, Ghana national pavilion. Photo Natalie Craven
The American pavilion is represented this year by artist Martin Puryear, coordinated by public art curator Brooke Kamin Rapaport from Madison Park Conservancy – the first time a public institution has been in charge of the pavilion. Puryear is a maker of objects; in wood, bronze, iron, tar, mesh and other materials, through which his sculptures explore issues of democracy, identity and liberty, the title of his exhibition.
Across the canal that divides the Giardini in two (along which Biennale security patrol to fend off chancers hopping from small boats) Brazil's Swingeurra, a fusion of the Portuguese word for war, is a powerful and moving film following a troupe of transgender dancers by artists Bárbara Wagner and Benjamin de Burca. As the looped film concludes in the crowded pavilion, applause and whoops go up from onlookers as if a live performance.
Evidence of political turmoil was visible through more than just the art, or in the case of the Venezuela sadly, the lack of art, whose country's political unrest at home had contributed to the pavilion remaining closed, doors padlocked despite the organizers reassurance that their opening would only be delayed slightly.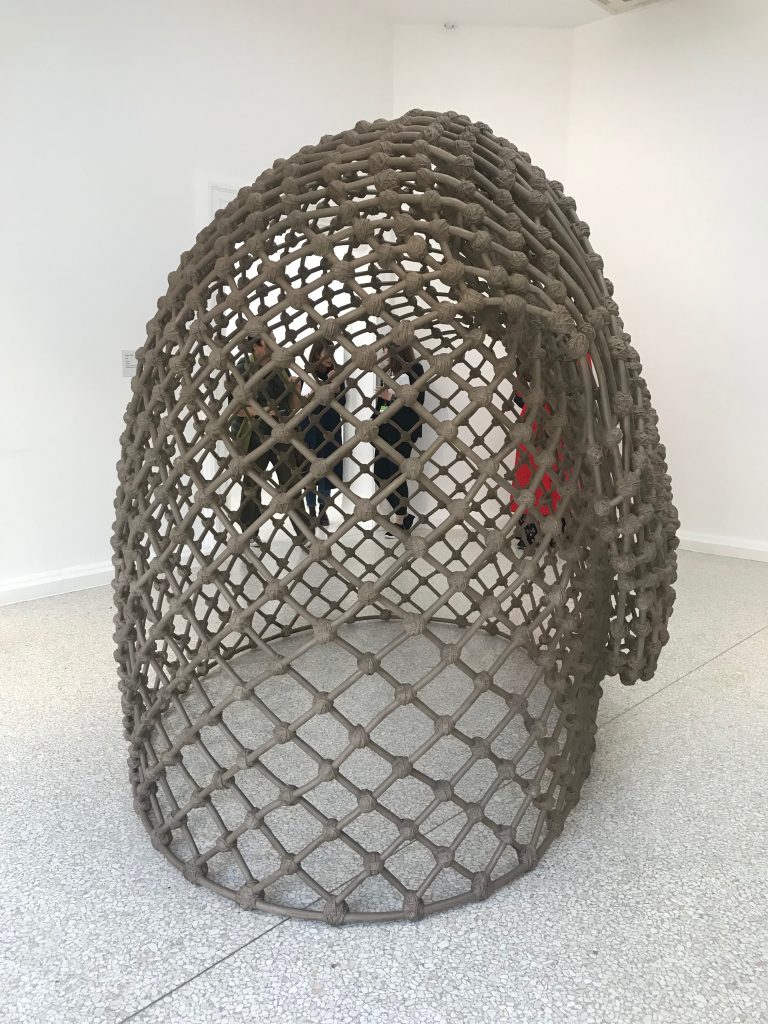 Martin Puryear, Aso Oke, 2019, American national pavilion. Photo Natalie Craven
Conflict and chaos
In the Arsenale, the vast sprawling site of the city's former Naval docks, the smell of fresh bare plywood fills the air. Revered filmmaker, Christian Marclay's new work '48 war movies' (2019) sets the tone of the exhibition early on for a thread of conflict and chaos. Multiple rectangular ribbons of film playing simultaneously in khakis and browns; a mass of noise and panicked cries, the sense of urgency making it compelling viewing whilst impossible to glean any narrative.
Ahead in the bowels of the building, the occasional powerful rush of water can be heard.  A kinetic sculpture by Chinese artists, Sun Yuan and Peng Yu, 'Dear' 2015, turns out not to be water but an air-pressured rubber hose violently lashing around within a Perspex box that when 'resting' appears to be a stately marble throne modeled on the Lincoln Memorial in Washington, D.C. (sans former president). A second work of this artist duo is featured in the Giardini is the mesmerizing 'Can't help myself' 2016, another robot that has been 'taught' 32 different movements by the artists. Uncanny and transfixing, the robot is preoccupied with the task of mopping up a bloody colored liquid, stopping occasionally to 'shake that ass' as the work's caption describes.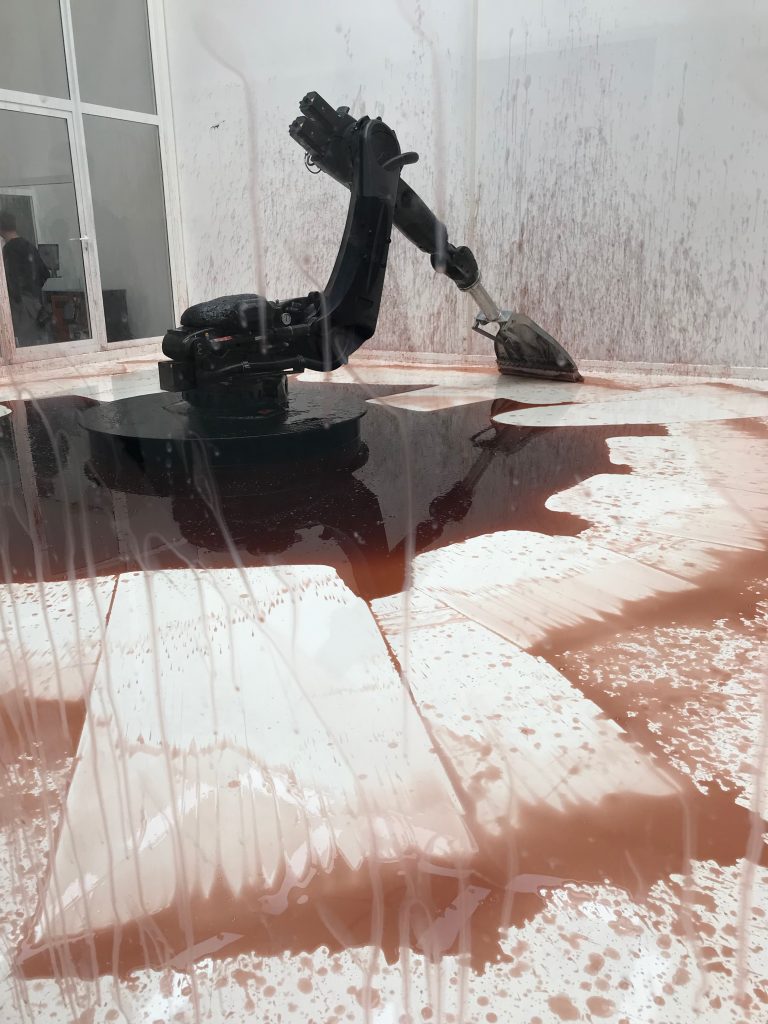 Sun Yuan and Peng Yu, 'Cant help myself', 2016. Industrial robot, stainless steel and rubber, cellulose ether in colored water, lighting grid with visual-recognition sensors, and acrylic wall with aluminum frame. Photo Natalie Craven.
Outside in the Arsenale's vast docks, the controversial inclusion of the wreckage of a migrant ship that sunk in 2015 has been at the centre of circling debate. Rugoff has defended his decision to include the ship, on which up to 1000 migrants were expected to have drowned, reasoning that its inclusion challenges perceptions when we are confronted with the real thing: 'You feel it in a different way; you're processing the information in a different way, hopefully that leads you to think in a different way.' Its inclusion has been described online as both 'absolutely vile' and 'powerful'.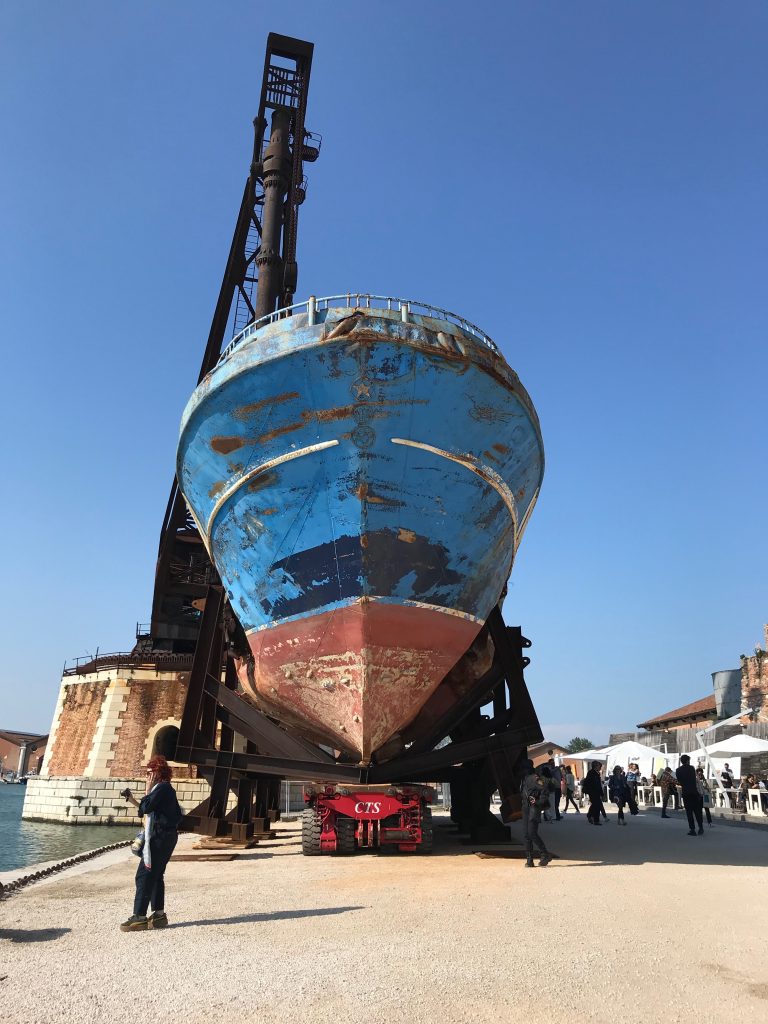 The shipwreck of the Barca Nostra at the Arsenale. Photo Natalie Craven.
An underlying rumble of doom seems to hang in the air throughout the central exhibition. Blood, war, memorial, malfunctioning technology; this year's exhibition in short, is not a cheery one. Whilst previous years' Biennales may have included elements of pure spectacle and art elation, this year's exhibition reads more like a momento mori of our times; the demise of democracy and the irreversible effects climate change – but don't let that put you off!
This year's prize for Best National Participation went to Eastern-Europe's Lithuania for the first time, despite whispers that French artist Laure Provost had it in the bag, an impression evidenced by the 90-min queues for the French pavilion. Within the back streets of the Arsenale, past a snaking queue of art lovers, 'Sun and Sea (marina)' is an extraordinary indoor, artificial beach complete with golden sand, sun loungers, well-thumbed summer reads, beach balls and beach bodies. The beach dwellers nonchalantly go about their day on the beach seemingly unaware of their audience on the balcony above; lounging, playing ball, bending to scruffle a small dog, shaking sand off their towel. This animated scene is also alive with singing in an astonishing all-day opera commenting on climate change and ideas of leisure and community. If you can endure the long queues to this year's most popular exhibit, a visit to the indoor beach is an uplifting and unifying experience.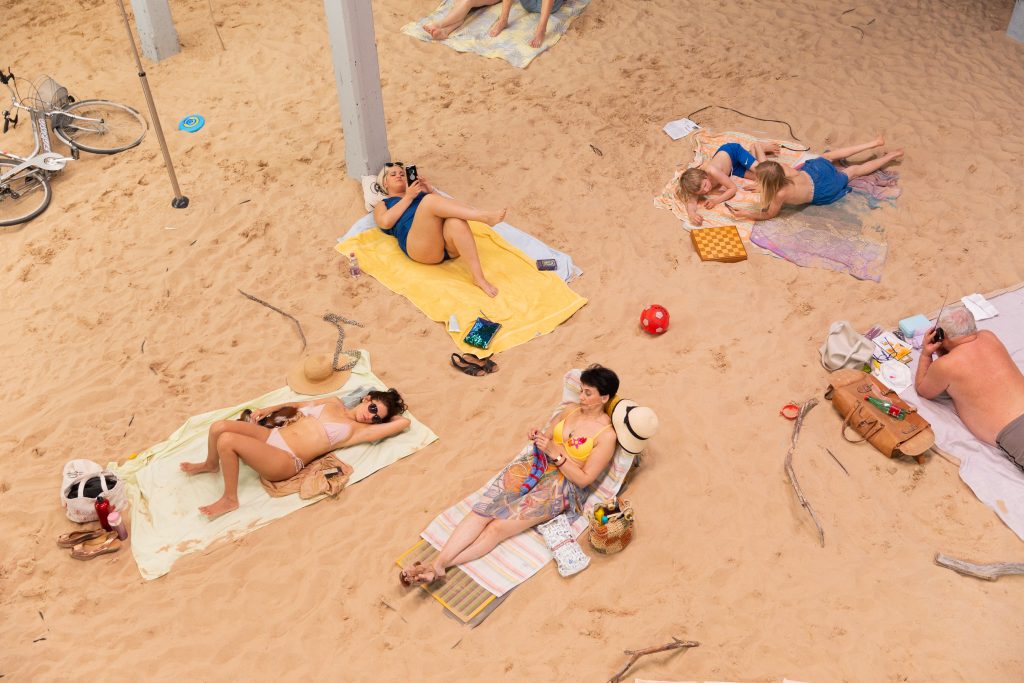 Sun&Sea (Marina), opera-performance by Rugile Barzdziukaite, Vaiva Grainyte, Lina Lapelyte at Biennale Arte 2019, Venice © Andrej Vasilenko
Female power duos
This Biennale there are a notable number of female artists, and more specifically the number of double-act female artist/curator partnerships at many of the pavilions including France (Laure Provost and Martha Kirszenbaum), Argentina (Mariana Telleria and Florencia Battiti), Ireland (Eva Rothschild and Mary Cremin), and Great Britain (Cathy Wilkes and Zoe Whitley). Though the most celebrated women this year surely are the trio behind Lithuania's Golden Lion-winning exhibition; playwright, composer and curator Rugile Barzdziukaite, Vaiva Grainyte and Lina Lapelyte. This prominence of female artists and curators in many of the longest-established pavilions in the Biennale goes some way at least to readdress the gender imbalance of the past.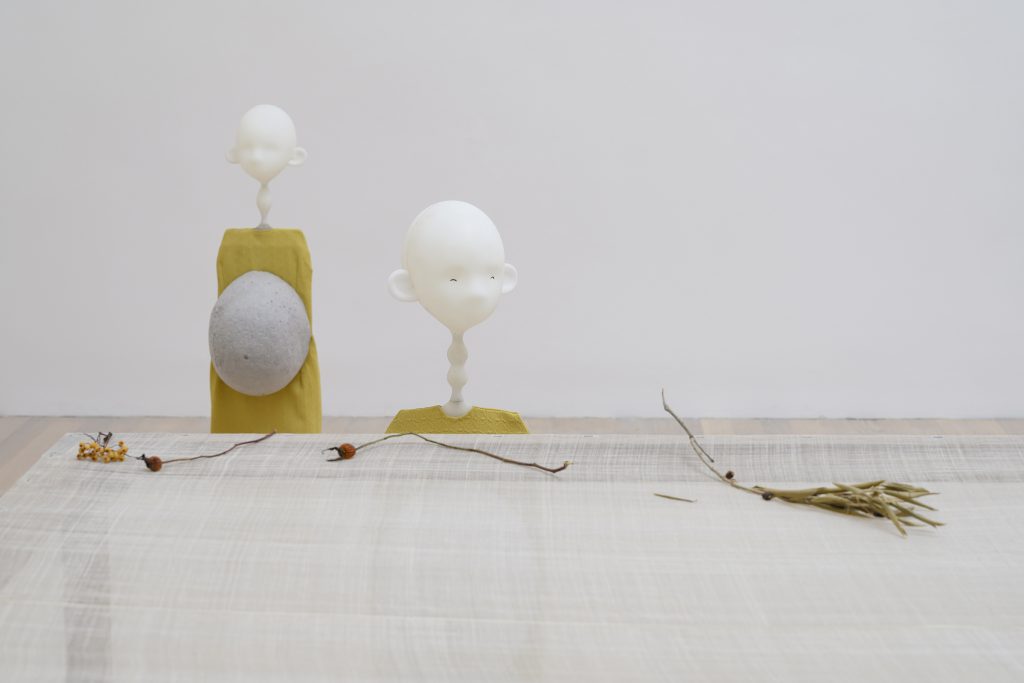 Cathy Wilkes, Untitled, 2019. Installation view British Pavilion. Photo: Cristiano Corte © British Council. Courtesy of the Artist, The Modern Institute/Toby Webster Ltd, Glasgow and Xavier Hufkens, Brussels.
Elsewhere in the city, however, at some of the most established (and wealthiest) museums and foundations, 'pulling out the big guns' for the Biennale opening months clearly still appears to mean male solo shows.  Exhibition advertising seen everywhere in the city; on building hoardings, hanging from balconies, pasted across the city's water buses are again this year dominated with male names: Jannis Kounellis (Prada Foundation), Sean Scully (San Giorgio), and Phillipe Parraneo (Louis Vuitton Foundation). 'BURRI' one promotion simply shouts. Long-time culprit Palazzo Grassi has a solo exhibition list since its opening over a decade ago is an entirely unbroken line of white Euro-American male artists. Yawn.
Luc Tuymans' current exhibition at Palazzo Grassi however is the biggest departure possible from the bling-tastic Damien Hirst exhibition at the last Biennale in 2017, it's focal point a shimmering tiled floor mosaic of green pines viewable from all angles from the towering balconies of the main atrium. Realised by Fantini Mosaici, the mosaic is made of over 200,000 hand-cut marble tiles, assembled by the craftsmen of the historical Milanese company.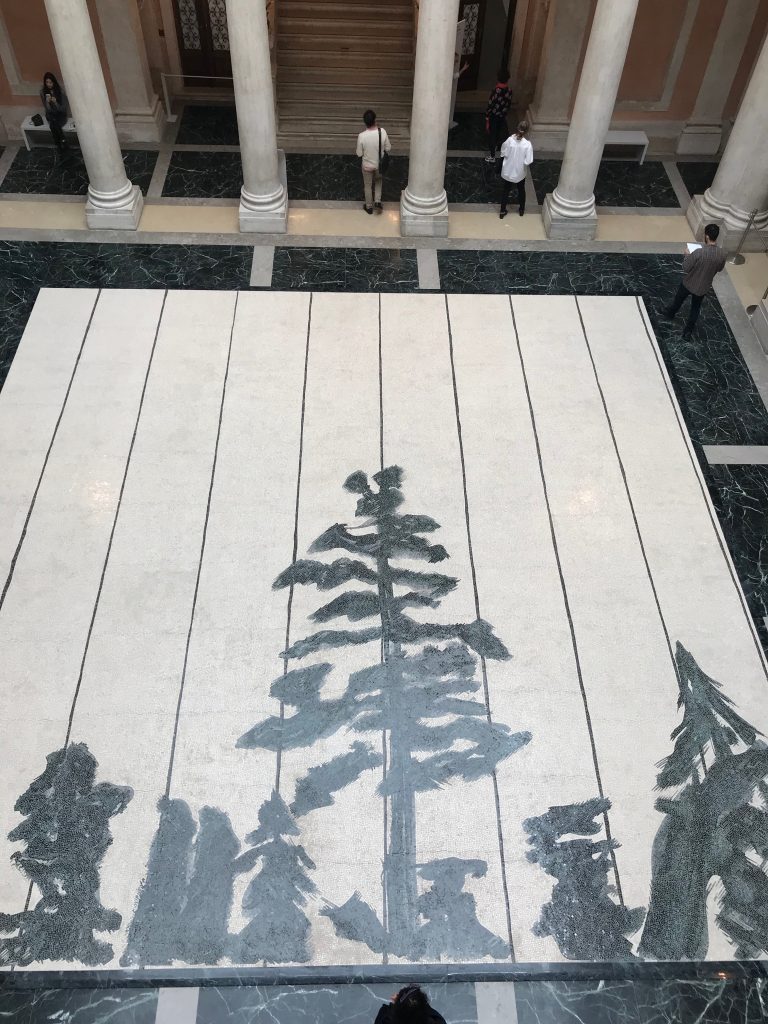 Luc Tuymans, La Pelle at Palazzo Grassi. Photo Natalie Craven
Away from the Biennale's main exhibitions, the fringe and collateral events weave their way within the rest of the city. Notable exhibitions include group exhibition 'Heartbreak' by London-based foundation Ruya Maps. Taking the classical story of Dido and Aeneas as its starting point, the exhibition includes the work of nine contemporary artists, each exploring the theme of heartbreak, while addressing the need for a wider global conversation about loss, betrayal and exploitation. On the Northern edge of the Grand Canal, contemporary polymath, DJ, fashion designer, Virgil Abloh showcases his latest foray into furniture making in a group show at Galleria Giorgio Franchetti alla Ca'd'Oro, a palazzo with a hidden lower courtyard of stunning mosaic floors.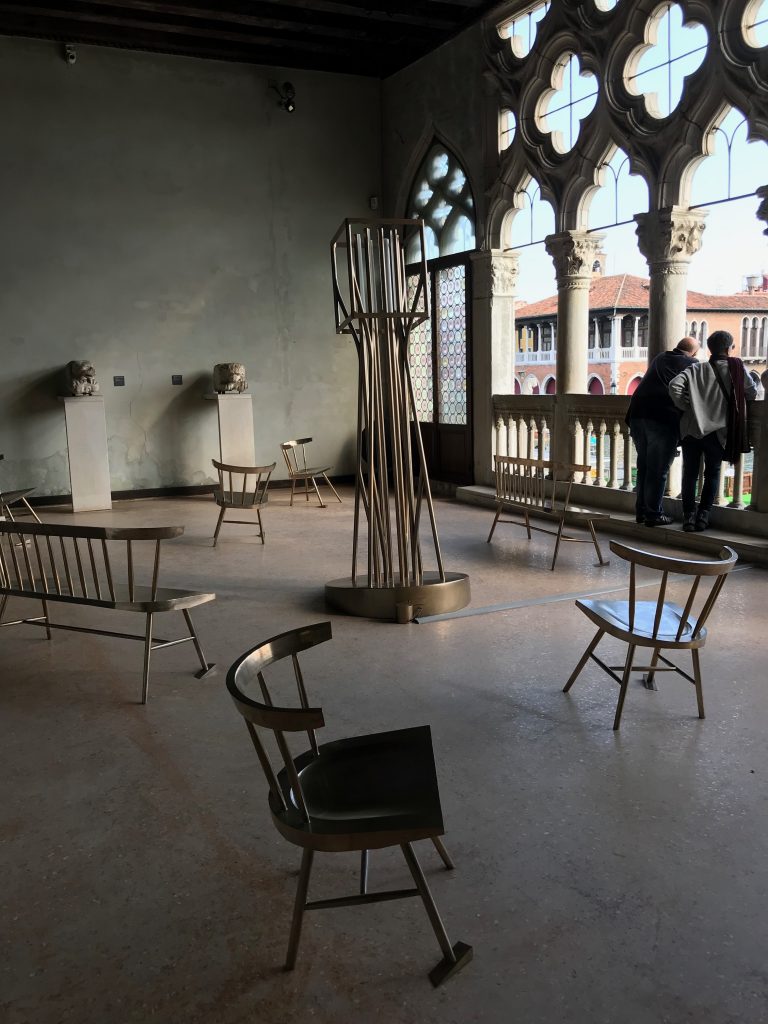 Virgil Abloh 'sinking furniture' at Ca'd'Oro. Photo Natalie Craven.
In the main, this year's Biennale skilfully navigates its way through a bumpy sea of political, social and economic world issues. Its artists engage with aspects of this moment, a myriad of possible histories in a 'post-truth' era; providing global context, personal human insights and adding layers of cultural narrative to the stories in our newspapers, disputes on our twitter feeds and the philosophies we discuss over an Aperol spritz on a pontoon in Venice.
The Biennale continues until 24 November 2019
Natalie Craven