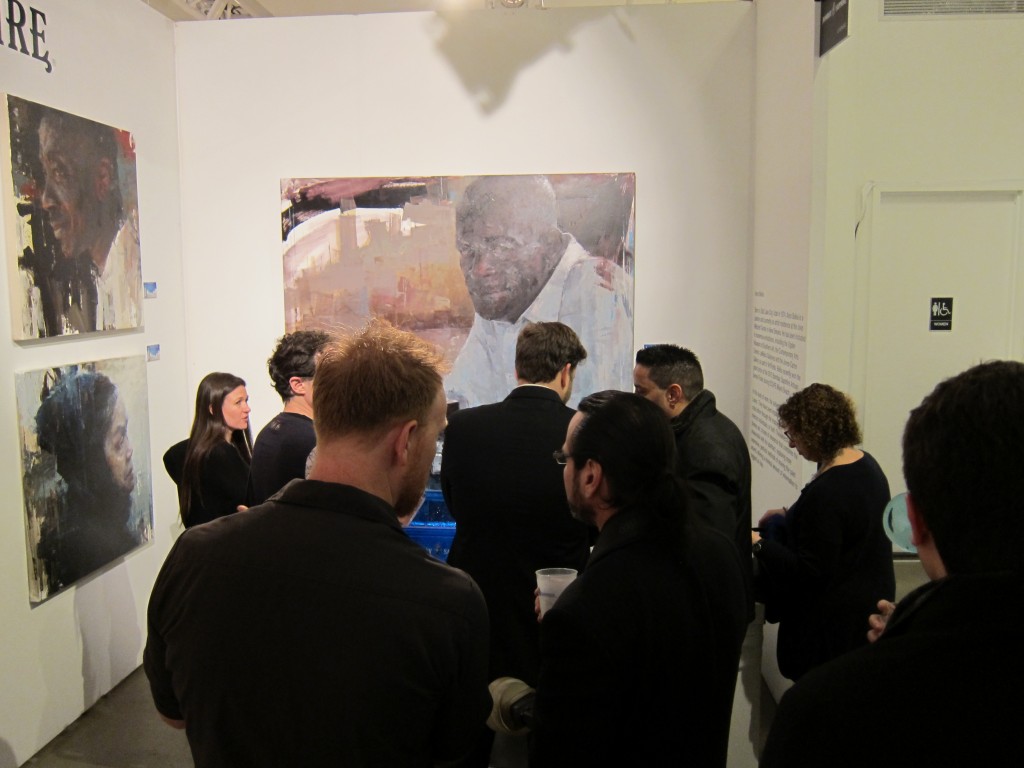 #ScopeSoMale
By C.C. Bon
In its 16th year, Scope hosts 60 galleries and includes its Breeder Program that introduces new galleries to the contemporary art market. My first impression upon entering the fair was that this was manageable since it is not the usual massive, maze-like layout where I have to plan my route on the map before even entering. The works in the first few booths brought to mind the political season – not because they spoke of the issues but because they were all fighting to grab my attention by being the loudest and most sensationalistic.
Quite a few pieces felt adolescent and objectified the female. I always wonder, do people really buy this? As I moved through the first floor of the fair, it got a little better, though I began to realize the majority of works focus on the aesthetic. I heard "pop surrealism" thrown around a lot. Given the current trend of more socially-focused art, it's hard for me to overlook this obvious, shallow, flashy art but I guess I should have expected that. It's an art fair. Though the golden turd emoji sculpture at Axion was slightly funny.
Not until about the fourth gallery did I finally see the work of a female artist on the wall. I was trying to not let it bother me, but let's be real here – it's bothersome and problematic. Most booths had either all males or a 1 to 5 ratio of female to male artists on average. Guerrilla Girls would be disappointed.
As a female artist and a feminist, it was impossible to not feel offended. But instead of shunning the gallery owners, I decided to talk to them and I really did enjoy the conversations. I remained open and listened to their side, asking them straight out – how did you choose who to show here, how many artist do you represent, and how many are female.
Most responded with a "I didn't even realize" or "it was not on purpose." This refusal to accept responsibility for an ongoing issue seems typical. No one wants to see that they have the power to change this dynamic. One gallerist's reason for having only two females in a space full of males – said with a straight face – because it's difficult, you know, with them getting pregnant. Not sure why he looked at me as if I would in the slightest understand what the hell that was supposed to mean. Another said he's "exposed to males more" so it would be a lot of work for him to find female artists.
The highlights of the fair for me happened to be mostly works by women, which I found apropos. My favorite piece on the first floor was a monochromatic painting by Zoe Byland at Haven Gallery. This newly opened gallery had two artists on view in the booth and both were female. Incredibly refreshing.
New gallery Jenn Singer Gallery wowed me at her 1st Scope show with paintings by Moroccan/Israeli artist Miriam Cabessa who represented Israel at the Venice Biennale in 1997. Ms. Singer said she reps mostly female artists "mostly on purpose." The one male showing in her booth was Cuban born Juan Travieso who had a number of colorful works on display. First-timers Kolman and Pryor of Minneapolis had a fun, plant-based sculpture by Kate Casanova. I was happy to hear they are well aware of repping mostly females and they also support their local artists.
Clara Fialho's lovely, colorful watercolors were shown at Azart Gallery. She is one of two artists showing there (both female) Clark Gallery had a number of paintings, my favorite by Squeak Carnwath (female). There was a small, gorgeous early work by Japanese superstar Yayoi Kusama in the OSME booth that I would love to own and a large, bright silkscreen painting by French artist Nicolas Pol that I found interesting. At Khaki Gallery, Nahid Khaki had her playful, textile hanging sculptures paired with photos by Wally Gilbert which worked really well together in her space. And Dialecto, showing 50/50 male-female ratio, had gorgeous paintings by Chilean born Vanessa Kocking.
I had an in depth conversation with Jumaane at N'Namdi Contemporary. Though he only had one female on display, this seasoned gallery director discovered -only after I asked – that he reps mostly female artists. Being gender equal comes naturally to him, he said. I loved the photos by Stephon Senegal, paper-plucked pieces by Neha Vedpathak, and the coffee stained works on paper by Stephen Arboite.
Speaking of coffee, I was surprised to find a strong grid of prints on the wall of the Illy Lounge as part of Rush Philanthropic Arts Foundation. The various artists' works looked great together. One piece was by artist/activist Tatyana Fazlalizadeh of the very successful "Stop Telling Women to Smile" poster campaign. If I had the space and money, I would buy this whole piece.
One Mile Gallery had a booth dedicated to photos by Mark Hogancamp which after hearing the backstory reminded me very much of Henry Darger and his Vivian Girls. I would expect this to be at Outsider Art Fair, not Scope.
The last booth I saw on the second floor, Island6, had a number of playful video works by artist collaborative Liu Dao, most of which were derivative. Works on view were incredibly similar (but not as thoughtful) to those of Julian Opie and Jim Campbell, as well as Gregory Scott and Marck. Surprisingly, the young man I interviewed in the booth was unaware of these other more established artists.
Overall, I enjoyed talking to gallery owners and felt our conversations held more depth than some of the works hanging on the walls. After the backlash for the Oscars being too white, I began to think if more people voiced their disappointment, maybe we could finally stop the cycle of promoted artists being overwhelmingly male. So, here I am, doing just that. Gallery owners and art fairs: pay attention to who you promote and introduce to the collectors and the public. You hold the power to add diversity. You can't sell what you don't show – and yes, females and artists of color do sell.