A London-raised artist relocated to New York after vacationing for the first time in 2008. Prior to moving to New York, Martin lived in Tokyo working as a video jockey while also creating live drawing performances. Her whimsical and intuitive drawings are seen as a meditation of lines inspired by everyday interactions with the world around her.
These drawings have translated into every aspect of Martin's artistic abilities. Her work has not only occupied the walls of galleries, but has also found a way to crossover into the world of fashion, designing for luxury goods such as Asia's ultra high end department store Lane Crawford and sneaker brands such as Nike and Vespa. Martin has even managed to create a coloring book, but this isn't your average coloring book. WAVE (the coloring book), once opened, unfolds into a nine-foot-long panel featuring dreamlike illustrations. The unique coloring book also offers a blank canvas, creating a final product that is not only inspired but inspiring. WAVE is available for purchase at Barnes and Noble, Books-A-Million, IndieBound, Amazon, and the artist's personal website (http://www.shantellmartin.com/wave/).
In a world of contemporary art, Martin believes the secret to being successful comes in all shapes and forms. She feels that being an artist is not exclusively about creating work but today's artists should also be organized, sociable, hardworking and knowledgable, in addition to their natural creativity.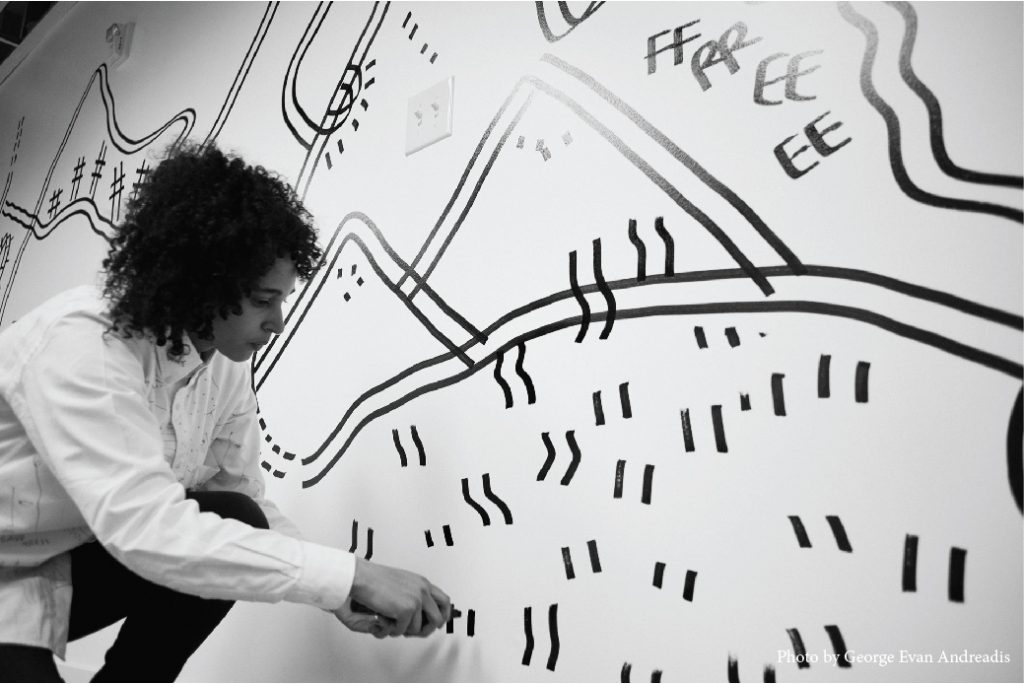 Who are you Shantell Martin? Tell us a little bit about you.
I'm just a girl from Thamesmead in South East London, who managed to get out and explore the world with the aid of some lines and words.
You moved to New York years ago, why New York?
I'm sure this has happened to many of us. Basically, I went to New York for the first time on holiday in 2008 and instantly said to myself I have to move here and I did. New York for a holiday is one of the best places on the planet. It's actually quite different when you move there, but then you're already there.
How do you balance between making work and promoting work?
It's best to focus nearly all your time on making and let other people promote it. We are quite lucky in the sense that if you work really hard at something and its good, people will naturally want to share it, which saves you from doing it.
Do you have team of assistants to help with the art making or the marketing of your work?
Jeez, I wish, I have 0 team and 0 assistants, For the first time last year I had an intern, which was great. But she found me. After a formal presentation, I needed her as my intern. I was so impressed that she became my first and last intern today.
In your opinion, what is the recipe for success for an artist?
Success can come in all shapes and from, but let's make the assumption we are talking about visibility, sales, opportunities, press, great projects. We live in a day an age where an artist can not just create work and hope to be successful an artist needs to be: Organized, sociable, hardworking, knowledgeable, create and so on.
I am a believer in great mentorship. Who is the most influential person in your life in terms of inspiring you in your artistic development?
I'm actually still waiting for this person to arrive. I would love an art mentor that would help me grow and guide me into the future artist I will become. If your out there, I'm ready for you!
Your line drawings are whimsical and intuitive. What inspires you?
It's almost like the drawings are already there in the world, we just can't see them. It becomes more about relaxing, enjoying what you're doing and letting the work unfold.
You've started to draw your dreams, We're curious, are your dreams in black and white?
There is definitely a lot of colour in them from time to time, but I enjoy the simplicity of the black and white captured dreams.
When did you start finding your voice? In terms of style and content.
We all have a voice that we are born with. I had touched on it here and there when I was younger, but is was only while in Japan that I was able to put myself in situations where I would be drawing to live music and would not have any time to think or hesitate about what I was about to create, this was a fantastic way to really pull that "me" out and see what my style really looked like.
If you could collaborate with another artist, who would that be and why?
Would love to collaborate with artist like Ann Hamilton, Rachel Maclean, Geoff McFetridge, Bjork, Haruki Murakami. I believe I would have a lot of fun with anyone of these talents.
There is a mention of your collaboration with your grandmother. Tell us about that project.
"Martin's "Dear Grandmother" collaboration was born over a decade ago when Martin commissioned her Gran to embroider her Half White series as a reflection on racial identity. Since then, the pair have worked on over 50 pieces together, with Gran adding her own touches of color or language along the way. Martin sees the pieces as symbolically bridging gaps of distance, generation, race and culture, creating an inclusive backdrop for artistic creation. With phrases like "Come Home" /"Go Home", "Briish" / "English", the pieces are challenging, but comforting, playful, yet ironic".